For your easy and safe booking with Siremar
click here:





To speak with our operators
and book your ferry, contact our
Call Center
+39 010.5731805
Check the company schedule for 2021:
Jan - Feb - Mar - Apr - May - Jun
Jul - Aug - Sep - Oct - Nov - Dec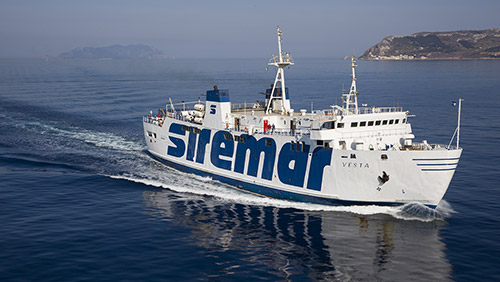 Siremar, acronym for "Sicilia Regionale Marittima", was created in 1975 after the creation of the new law that reorganized maritime transportation. The CEO of Ustica Lines, in 2016, bought Siremar; since then, the company is run with Caronte & Tourist.

The company works in five different areas: Pelagian Islands, Aeolian Islands, Egadi islands, Pantelleria and Ustica. The fleet is composed by comfortable ferryboats and hydrofoils, that are also safe and fast. All these vessels have the most modern equipment on board to ensure the highest quality standards, the most efficiency possible and the most reliability. The ferryboats transport both passengers and vehicles.

The important routes operated by Siremar are: Naples Eolie Islands, Milazzo Eolie Islands, Trapani Favignana, Trapanti Levanzo, Trapani Marettimo, Trapani Pantelleria, Palermo Ustica, Porto Empedocle Linosa, Porto Empedocle Lampedusa.